CRIDF recently participated in a series of stimulating presentations and discussions at the 8th Southern African Development Community (SADC) Multi-Stakeholder Water Dialogue. Water dialogues were first set up to raise awareness of how integrated water resources management can lead to social and economic development. The 8th event was hosted by SADC in Johannesburg, South Africa on 21–22 November 2017 and focused on achieving inclusive economic growth in the region through nexus (water-energy-food) opportunities.
At the dialogue, Dr Morris Mtsambiwa represented CRIDF as Executive Director of the Kavango Zambezi Transfrontier Conservation Area (KAZA TFCA). Dr Mtsambiwa engaged dialogue participants with a presentation on 'Promoting climate-resilient livelihoods in the KAZA TFCA'.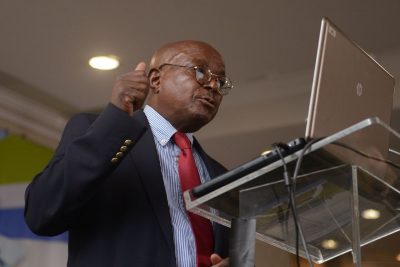 Dr. Mtsambiwa spoke on CRIDF's recent work in the KAZA TFCA, which focused on identifying local value chain opportunities in key tourism clusters. CRIDF's studies demonstrated how the provision of water infrastructure in the area could support local production of goods – allowing subsistence farmers to enter the formal tourism sector. Dr Mtsambiwa elaborated, stating that supporting and encouraging local tourism activities through strategic water access will not only provide job opportunities but also help provide social benefits such as health, schooling and housing.
"Tourism support hubs could provide people with secure livelihoods, away from areas of conflict and susceptibility to climate change, resulting in a more harmonised landscape within which both wildlife and people can thrive." Dr Morris Mtsambiwa, Executive Director of the Kavango Zambezi Transfrontier Conservation Area
CRIDF took away some important messages from the 8th SADC Multi-Stakeholder Water Dialogue. These include the recognition that development organisations should involve local government in nexus thinking and should consider the promotion of gender equality as a catalyst to achieving sustainable development. The water dialogue also stressed the need to place job creation at the centre of development projects and to overcome intra-SADC trade barriers. In addition, it highlighted the importance of utilising opportunistic value chains, such as using waste for power, to increase resilience and profitability.