This January, a team of water experts from four countries travelled along 3,000 kilometres of rural Angolan roads, in order to assess four very remote, but potentially life-saving, flood gauges. While floods regularly devastate communities in multiple floodplains – including Botswana's Okavango Delta – they often begin with heavy rainfall in Angola's remote tributaries.
The plans for this work began at a November 2017 meeting of the Water Resources Technical Committee of the Permanent Okavango River Basin Water Commission (OKACOM). CRIDF supports OKACOM in achieving climate resilient, pro-poor development in this transboundary river basin, a goal that cannot be achieved without reducing the destructiveness of floods.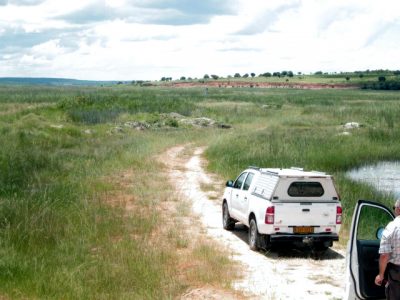 Rapidly sharing data about water levels and flood conditions is in the interests of all three countries that share the Okavango River: Angola, Botswana and Namibia. CRIDF is providing technical assistance to OKACOM's Protocol on Hydrological Data Sharing, which will enable cloud-based access to information registered by automated gauges placed at key points on the river system. At the November meeting, the Technical Committee agreed that four gauge stations in Angola should be refurbished to implement this protocol.
The reconnaissance visit included a CRIDF technical advisor from South Africa; delegates from Botswana's Department of Water Affairs and Namibia's Department of Water Affairs and Forestry; and two representatives from the Angola State Secretariat for Water. As members of the Water Resources Technical Committee, these experts have worked closely together in the past. CRIDF prepared extensive logistical planning, travel risk assessments and mitigation measures to ensure the team's health and safety.
The team successfully completed their visit to the gauge stations on the Cuebe, Cuito, Cuiti and Okavango Rivers in seven days. They will now share their first-hand observations on how best to upgrade the stations for more accurate readings and automated data sharing. Based on their report, CRIDF will work with the Technical Committee to secure necessary funding, building a system that will make it possible for flood-vulnerable people across the Okavango Basin to receive sufficient advanced warning of flooding. The system will improve the understanding of river flows for improved water resources management, especially in times of drought.