In partnership with Interconsult Zimbabwe and the contractor Global Water Technology, CRIDF has financed work on rehabilitating small dams in eastern Limpopo, Zimbabwe. The project, which began last October, will maintain and improve five dams in the regions Matabeleland North and Matabeleland South. In so doing, it will secure a sustainable water supply for household use and smallholder activities – watering livestock and irrigating crops.
CRIDF's Zimbabwe project builds on the success of the 'Give a Dam' programme, implemented in the 1990s by a partnership of local, national and international organisations. CRIDF seeks to rehabilitate the dams that were constructed, thereby addressing the lack of financial support for maintaining these dams after the year 2000.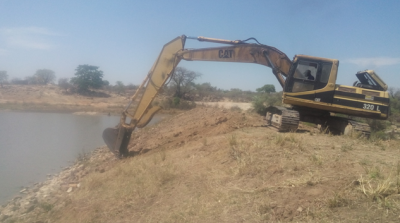 Stakeholder engagement has been a key part of the Zimbabwe dam project. As such, prior to identifying dams for rehabilitation, CRIDF consulted with groups including the ProAfrica Development Trust, local government authorities and civil society groups, as well as communities which had benefitted from the previous 'Give a Dam' campaign.
So far, Global Water Technology is ahead of schedule at three out of the five sites in Matabeleland, because these sites were prioritised as high risk in terms of rains affecting works.