CRIDF's focus on working collaboratively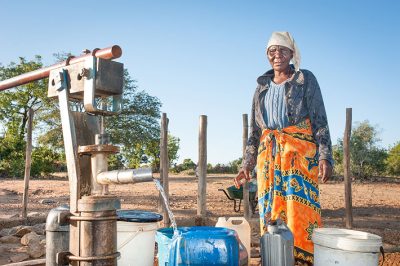 Collaboration to identify and address stakeholder needs
To sustainably address the water-related issues that affect the poor across Southern Africa, CRIDF is providing key partners with the tools needed to make appropriate decisions in the water sector. However, providing effective tools and solutions to real-life problems requires CRIDF's team to develop a strong knowledge of the very specific issues that particular organisations face. CRIDF is therefore embedding water sector experts in ministries so that they can work collaboratively with stakeholders and transfer technical knowledge efficiently within government.
The Facility also responds to specific requests for technical advice. This two-pronged approach aims to transfer technical knowledge to regional, national and private organisations across Southern Africa in order to ensure that pro-poor, climate-resilient approaches will continue to be adopted long after CRIDF has ended.
Collaboration to help implement projects that will have the greatest positive impact on the poor
CRIDF is also working with partners to identify which projects will have not only the greatest potential to improve the lives of the poor and address climate change, but also which are the most viable long term. Once such projects have been identified, CRIDF will work with them directly to provide the technical advice and capacity building needed to ensure that they are successful. These will form the foundations of CRIDF's 'demonstration projects' approach.
Collaboration to ensure that water projects are climate resilient
CRIDF takes care to reach out to organisations installing water infrastructure in order to ensure that climate-resilient approaches are taken that protect local people and their livelihoods. This is important, because while the impacts of climate change are going to become increasingly challenging, badly-handled potential solutions can cause as many problems as they solve. A dam, for example, can leave farmers growing vital crops living in one area without water, while simultaneously flooding the homes of the poor in another. So, it is important to ensure that climate-resilient techniques that take account of the needs of the people affected are integrated into every water project in the region.